Madden NFL Mobile was released in 2014 for Android and iOS devices, giving you a new way to experience football on the go. Developed by the team at EA Tiburon, Madden NFL Mobile has shown impressive longevity, with gamers coming back annually to see what it has to offer.
Madden NFL Mobile Premise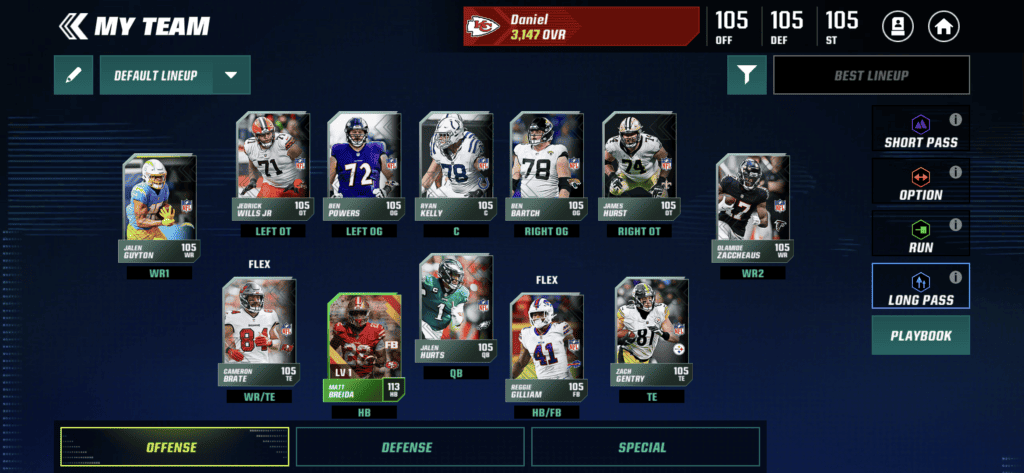 Madden NFL Mobile is football as you know and love it, just on a smaller scale. Just as you can in the main games, you can build your Ultimate Team, or participate in entire seasons culminating in the legendary Super Bowl. The game is free to play, but you can purchase packs that help build up your squad. That's not to say you can't build a great team without spending money – you can, it will just take a lot longer to do so. If that doesn't sound like your idea of fun, you can even head to the Auction House to bring in players for your team. With so many systems to get involved with here, it's no surprise gamers become so invested.
You don't have all the fun off the field, though. The game retains the classic Madden NFL gameplay that the franchise is famous for and allows you to mastermind the perfect plays on the field. It handles great, with sleek controls perfectly adapted for touchscreen mobiles.
Every year, EA Tiburon updates Madden NFL Mobile to reflect the real players and teams taking part in the NFL. This is defined as "Seasons" by the studio. Seasons bring many of the gameplay innovations from the main game that year. The developer is restricted by the limitations of mobile hardware, but these upgrades are big enough to feel like a substantial step forward each time.
Madden NFL Mobile Main Characters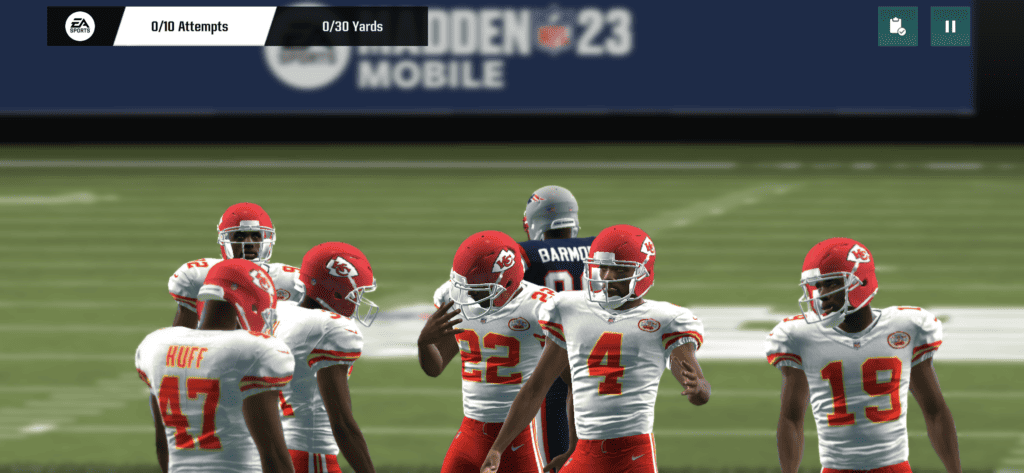 What you might consider a "main character" in Madden NFL Mobile changes with every new iteration of the game, and depends on your own definition of the term. In some sense, the main character will always be the late John Madden, whose presence is felt in every game.
For others, a Madden NFL game is defined by its cover star. Due to the constantly changing nature of Madden NFL Mobile, it doesn't have a singular cover star, instead opting to feature different players across its various events. For example, the King of the Gridiron event features iconic San Francisco 49ers wide receiver Jerry Rice as its star, and players can pick him up in-game during this time. This approach allows EA Tiburon to be much more flexible with its promotions, especially compared to the main games, where one player is the face of Madden NFL for an entire year.
Your idea of a "main character" in Madden NFL Mobile might simply be the player you end up using the most. As you build up your team, there could be one who stands out above the rest. If you've got a player that's helping you to glory, why would you ever get rid? By staying loyal to these guys, you get the chance to write your own Madden NFL story and create your own main characters.
Madden NFL Mobile Titles in the Series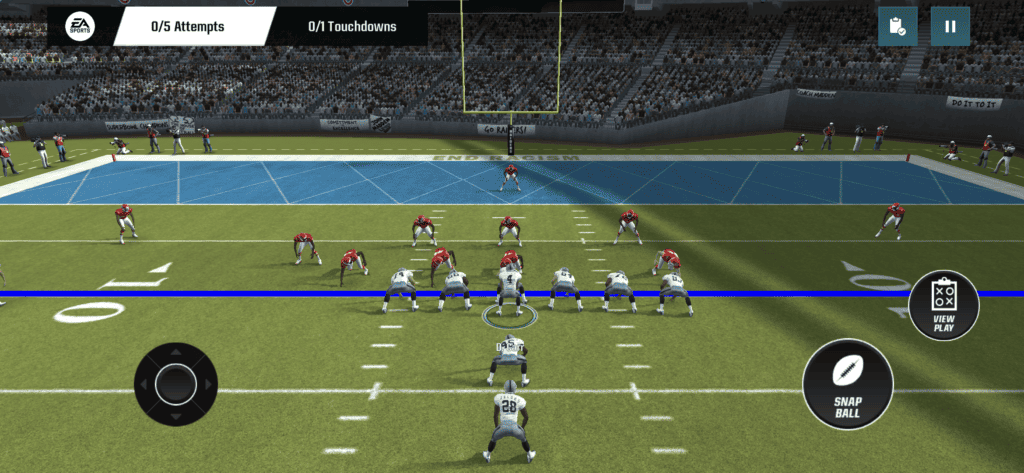 If you're a fan of football, there's a very good chance you will have played a Madden NFL title at some point over the years. Although others have tried, no one has come close to replicating EA Tiburon's near-perfect formula. Some would argue this has stifled innovation to some degree, but ultimately the studio has done a good job to ensure it feels like a fresh experience every year.
When gamers play a Madden NFL game, they know exactly what to expect. Pure football, plain and simple. As long as it stays that way, Madden NFL isn't going anywhere for a long time yet.
Madden NFL Mobile Cheat Codes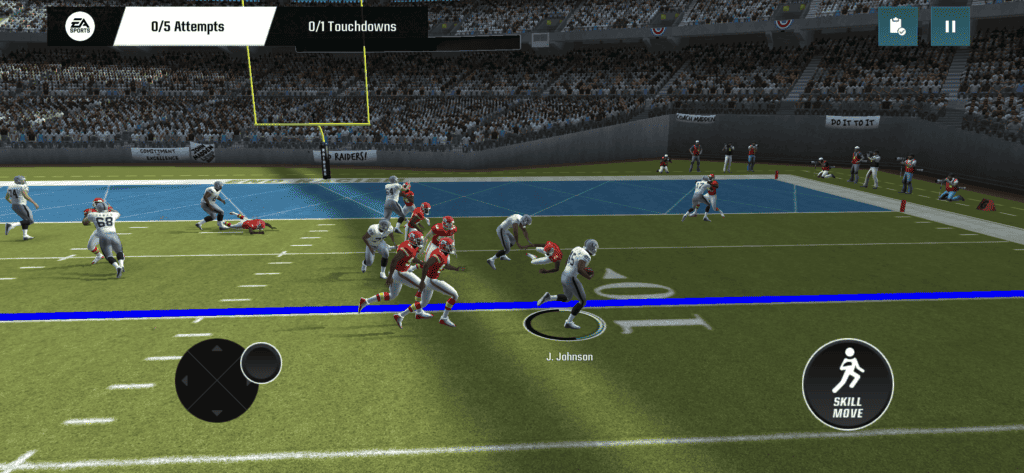 Being a freemium game, EA Tiburon has put in a lot of work to ensure players can't gain an advantage by cheating. It would compromise the game's entire business model. Why would players spend hundreds in-game, if they could just cheat their way to the top?
Despite this, there are ways to earn free Madden Cash in Madden NFL Mobile. Occasionally while playing, you'll be presented with the option to watch a quick advert in exchange for Madden Cash. Do this often enough, and you'll be able to purchase items from the store that would otherwise be reserved for paying players. You usually earn about 10 Madden Cash for every advert watched. It might not seem like much, but over time it adds up! If you head directly into the store, you can find even greater rewards, with the option to watch adverts in exchange for entire packs instead.
If you're absolutely insistent on cheating in Madden NFL Mobile, then there will always be third-party tools to help you. We can't recommend these, and if you use them, you will almost certainly be hit with a total ban by EA Tiburon. If you're signed in to your EA account, this ban could extend to other games, which doesn't seem like a worthy trade to make in our books.
Madden NFL Mobile Cheat Code FAQs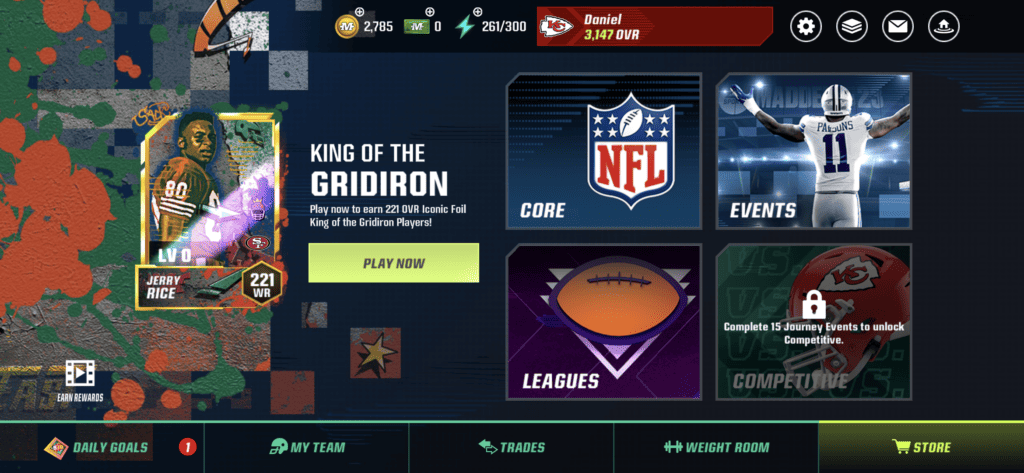 Are There Codes For Madden NFL Mobile?
Sadly not. In many games with an in-game store, there is usually an option to redeem codes in exchange for goods. This is great, as it allows individuals and even EA Tiburon itself to do giveaways online. However, Madden NFL Mobile cannot redeem codes altogether.
This is a massive shame, as redeeming free codes via giveaways is a great alternative to cheating. It's already a feature in the main games and would be a welcome addition to Madden NFL Mobile.
How Do I Get A Good Team Fast In Madden NFL Mobile?
Even without the use of cheats, there are still some great ways to get a 130+ rated team fast in Madden NFL Mobile. The best method will always be to take part in promotions. Usually released around special events and holidays, promotions in Madden NFL Mobile allow you to get an Iconic Player without spending a single cent.
You should also take advantage of Team of the Week, which is perfect for getting high-rated players at a bargain price. If you avoid the Foil cards, it won't cost too much to build a 130+ rated team, especially if you trade in some of the players already on your roster.
How Do I Get Free Madden Cash In Madden NFL Mobile?
As we mentioned earlier, the best way to earn free Madden Cash is to simply watch adverts. It's not the most time-efficient method, but doing this is completely free of charge.
If you want to get Madden Cash via gameplay, there are still options available to you. Playing through the Journey game mode offers up a lot of Madden Cash if you complete certain events along the way. Each Journey offers up a total of around 1000 Madden Cash, just by playing the game! You should also be looking to complete all of your Daily Goals, as achieving them usually nets you a big influx of Madden Cash. Keep this up every day, and you'll be rich in no time.